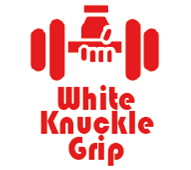 Returns Policy
I would hate for my products to not meet your expectations, however I can still make the experience with White Knuckle Grip a positive one.
If your purchase does not meet your expectations, contact me within 30 days from receipt of your purchase to return the product to me. This should be enough time to have tried your purchase and know if it is right or not. We will then refund the full purchase price including the cost of delivery. If you prefer not to send the product back but are still dissatisfied, please let us know and we can make other arrangements to add value to your experience. This can include discounts on different products in our range.
This return policy does not affect your rights under the Australian Consumer Law. If you purchased a product with a major fault, you have the right to ask for your choice of a replacement or refund. If you purchased a product with a minor fault, we can choose to give you a free repair instead of a replacement or refund. Further information is available at https://www.accc.gov.au/consumers/consumer-rights-guarantees/repair-replace-refund.
Letting me know about this issue will also give me a chance to improve and provide better products.
Contact me, Collin D'Costa on cdcosta1@hotmail.com
© 2023Copyright White Knuckle Grip